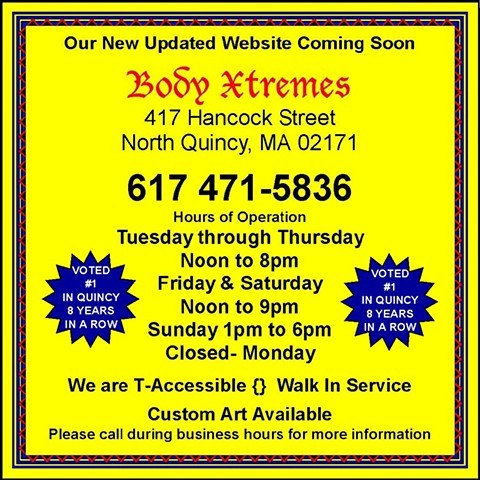 Body Xtremes is the oldest LICENSED & REGISTERED Professional Tattoo/Body Piercing Parlor in Massachusetts.
Our goal at Body Xtremes is to provide a sterile setting coupled with professional and capable artists, which ensures a most pleasant tattoo/piercing experience possible. We at Body Xtremes strive to make your tattoo/piercing experience a happy one that you will fondly remember.
Body Xtremes has over 45 years of experience behind each piercing and our piercers and tattoo Artists are all First Aid & CPR trained, as well as schooled in OSHA's Bloodborne Pathogens & Needle stick procedures. The piercers have also completed a course in Anatomy & Physiology. The Tattoo Artists have completed a Skin Course provided by the City Of Quincy Health Department.
Body Xtremes is totally committed to providing the most sterile and worry free piercing or Tattoo that you can possibly want. We are courteous, professional, discrete and knowledgeable. We provide a complete after care program for all Body Piercings and Tattoos that we perform. Including ones that we did not personally perform.You are in the safest of hands with Body Xtremes. Our equipment is sterile and our needles Both Tattoo & Piercing needles) are ONE USE disposable surgical steel and of the finest grade. We are constantly striving to make your experience with us worry free and as pleasurable as possible. We have only your wellbeing in mind. Each tattoo/piercing is handled in a courteous and professional manner.
What We Do
Body Xtremes is much more than just a Tattoo/Piercing salon. We are also an Oddities Museum. We have many strange and exotic items from around the world on display. We also have Handmade jewelry that are one of a kind items as well as many fashion pieces that are as trendy as what you will find on Newbury Street in Boston or the Village in New York City. We are always looking for odd and wonderful items to add to our inventory. Our staff is both knowledgeable and courteous and are here to serve you with a kind word and a smile. We pride ourselves on the fact that there is no "attitude" in our store.
Come visit us and see for yourself. Cleanliness is our trademark.
We pride ourselves on being one of the most sterile Tattoo and Body Piercing salons in New England. We conduct tours of our facility for those who care to come in and take a look. We also provide a complete after care service at little or no charge to you. Even if you didn't receive your tattoo/piercing from us, we are here to help. Our professionally trained staff is able to answer all of your piercing questions. You may rest assured that you will be in the best of hands with Mik Miller and the staff of Body Xtremes. Let us treat you to your next piercing. It will be a most pleasurable and wonderful experience.
We hope to see you here!